From the Principal's Desk

Warm Greetings! I feel deeply honoured and privileged to take over as Principal of this esteemed institution, which is also my Alma Mater. I thank all the stake holders of the College for their whole hearted support, which has helped this institution to achieve the success it has.

Our College provides an excellent platform to every student, for honing their skill sets, which enables them to face challenges of the 21st century with great fortitude. The team of dedicated faculty members of our College, who keep abreast with the latest developments in their field through active research along with teaching, nurture and motivate the young minds to excel academically and pursue higher education. This is evident in the college's reaccreditation with A Grade by NAAC.

"Try not to become a man of success, but rather try to become a man of value".
-Albert Einstein

My dear Students, imbibe good values and pursue education for enlightenment, not merely for earning a living!

"Coming together is a beginning, Keeping together is progress, Working together is Success"
-Henry Ford

We have to prepare ourselves to scale greater heights in the future and only excellent team work will help us succeed!

"The secret of getting ahead is getting started"
-Mark Twain.

Let us all work collectively to achieve this Goal. My best wishes for an event filled academic year.

Jai Hind
V. Varalakshmi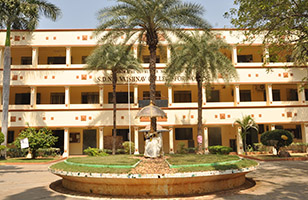 Shrimathi Devkunvar Nanalal Bhatt Vaishnav College for Women, started in 1968, was granted autonomous status in 2006 and extended in 2013. There are 10 courses at the under graduate level in the Aided structure. In the self-financing structure there are 12 Under Graduate courses, 9 Post Graduate courses (2 more PG courses waiting for university approval ) and 4 M.Phil. courses. Departments of History and Tourism, Statistics,Physics, Plant Biology and Plant Biotechnology, Computer Science and Commerce have been upgraded as Research Departments. University of Madras has granted Ph.D guideship to 22 staff members. Adding to this, 20 are recognized as M.Phil supervisors in Day and Evening stream.

The college is reaccredited with 'A' grade by NAAC in 2011. It delivers a high standard of education and discipline through committed staff that makes students wiser and stronger. The Board of Studies designs and develops career oriented and socially productive curriculum, with enriched contents, which is approved by the Academic Council and Governing Body of our college.

Skill based certificate courses are offered to students to equip them to face the current challenges in the job market. The college implemented e-Governance to all the sections of the college (Academic and Administrative System) in 2002-2003. Apart from this, under the E-edu Govern project the institution is offering computer literacy to all the students besides their regular class schedule.

Star College Scheme has been sactioned by Department of Bio-technology, Ministry of Science and Technology, Government of India,New Delhi to the departments of Physics, Chemistry, Plant Biology and Plant Biotechnology.
ADMISSION 2016-2017
Application for UG, PG and MPhil Courses will be accepted online in the college website for both Aided (Day College) and Self Supporting (Evening college) Courses. No printed application will be sold in the college. The online application can be filled after the TN +2 results are declared. Last date for applying for Aided Stream UG Courses Online is 26-05-2016. Application received after that will be considered as Late Applications.

Click Here to download prospectus of




CLICK HERE TO APPLY ONLINE